Everyone's favorite football star, comedian, artist, bodybuilder, actor, and nerd savant Terry Crews is under fire for tweets regarding the Black Lives Matter movement, in which he warned against any chance of allowing current activism and outcry against systemic police brutality from morphing into dangerous identity politics. For his declaration of camaraderie and unity, the Old Spice God has received no short order of abrasive derision from those who are most likely his greatest concern in what ought to be a time for understanding compassion.
Crews, a Christian and an outspoken activist for women's rights, stated on Twitter this morning "If you are a child of God, you are my brother and sister. I have family of every race, creed and ideology. We must ensure #blacklivesmatter doesn't morph into #blacklivesbetter".
Although stating this with the intent to bridge divides in affirmation of cooperative political actions so as to prevent discord and prejudice, the intended effect has if anything backfired as he has received a wave of criticism for missing the point and delegitimizing the current political movement. Many social media activists took to social media and attempted to excoriate Mr. Crews for his comment.
Although now on the business end of the SocJus Twitter mob, Crews has previous spoken out in favor of protests calling out police violence and discrimination against black Americans, with proceeds from his then-advertised "Phenomenally Black" t-shirts going to the Black Futures Lab (an African American advocacy group).
In juxtaposition to the progressive dog pile, some voices like conservative political commentator Jared Monroe, have been unafraid to address the backlash as an example to illustrate this seeming point of contention.
Crews recently also faced animosity when it was discovered he couldn't make it to the BET Awards 2020 – because he wasn't invited.

It remains to be seen if this will be the end of Terry Crews given contemporary cancel culture, but if there's anyone who can weather this mudstorm and still come out squeaky clean, well…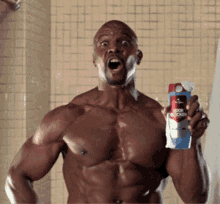 Featured Photo Credit: Alex Motoc