Johnson Says That Europe Needs To Pay Its "Fair Share"
By: Elias J. Atienza
Gary Johnson, the Libertarian presidential nominee, said in an interview with Military Times that Europe needs to start paying their fair share in NATO. Echoing Donald Trump, who has been harshly critical of the United States' alliances, Johnson said Europe has not "not picked up its fair share of [military spending]."
"I intend to honor all treaties and obligations that are in effect," he told Military Times. "That is something that has to be projected by the incoming president. But with regard to Europe, they've had this free go of being able to grow their welfare programs on the back of us coming in and covering their back with our military."
NATO official guidelines says member states should spend up to 2 percent of their GDP on defense spending. So far, only four countries meet that mark besides the United States; the United Kingdom, Greece, Estonia, and Poland. There are over twenty-eight countries in NATO. Germany spent 1.18 percent of their GDP on their military while France spent 1.8 percent.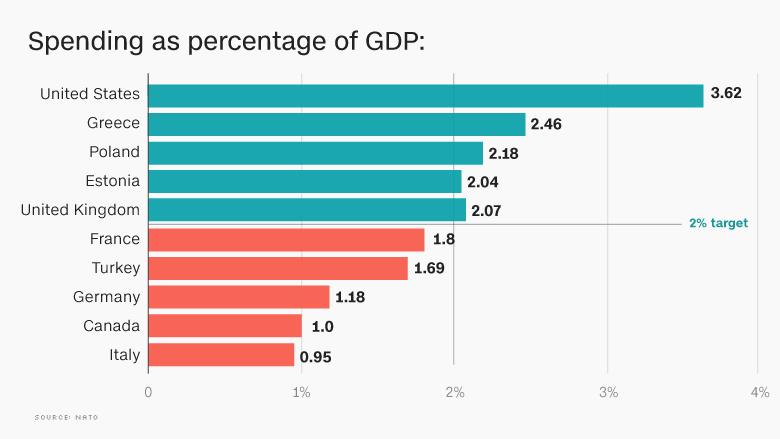 Courtesy of CNN Money
Johnson said the expectation that European countries should spend 2 percent of their GDP on defense spending is "a very reasonable figure."
"I believe there are only two countries in all of NATO complying with that. Amazingly absent from that is Germany," Johnson said.
In total, NATO member states spend $900 billion on their respective militaries, with the United States spending the most at $650 billion. The United States also uses a greater part of its GDP on military spending, with 3.62 percent.