by Elias J. Atienza
Donald Trump has been very forceful in his criticisms of America's current foreign policy. One of his criticisms has been of NATO, and he raised alarms among the alliance when he suggested that America would not defend anyone who did not meet the goal of spending 2 percent of their GDP on defense.
Only a handful of nations meet the requirement, including the U.K. and Poland. Meanwhile, Denmark and Germany, nations known for their generous welfare states, only spend 1.18 percent and 1.2 percent of their GDP on defense, respectively.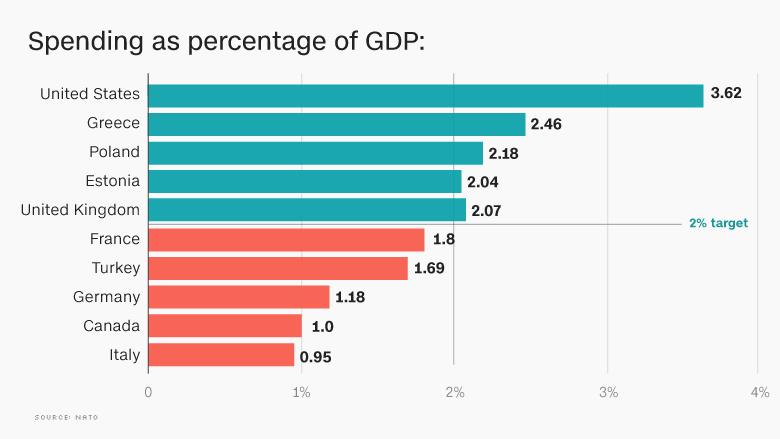 Courtesy of CNN Money
Helge Pedersen, a Copenhagen-based chief economist at Nordea Bank AB, estimated that meeting the 2 percent mark would require about 15 billion kroner in extra defense spending, according to Bloomberg. That's the same amount of money that Denmark spends on supporting their universities.
Prime Minister Lars Lokke Rasmussen has requested 800 million kroner in defense spending, starting next year. But it is only a fraction of the money needed for meeting the 2 percent goal. It also doesn't help that the government is struggling between competing demands for tax cuts and increased welfare spending from their allies in parliament.
In any case, Denmark's "budget deficit is already close to the EU's budget limits," Pedersen said to Bloomberg. "There's really no way we can increase defense spending without cutting costs elsewhere."
Defense spending in Denmark makes up 3 percent of the budget, while welfare spending makes up almost three quarters of the total budget. Any increase would lead to cuts in welfare spending, whether in education or healthcare.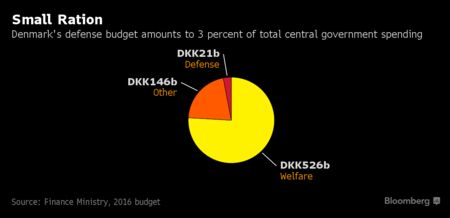 Courtesy of Bloomberg
There are some in Denmark who welcome Trump's demands. Johannes Riber Nordby, deputy director at the Institute for Strategy at the Danish Defense College, told Bloomberg that Denmark needs money for international operations.
"We need money for international operations and Danish military equipment is more worn down than most people realize," Nordby said.
During the election, Gary Johnson brought up in an interview with the Military Times that Europe needs to pay their fair share.
"I intend to honor all treaties and obligations that are in effect," he told the Military Times. "That is something that has to be projected by the incoming president. But with regard to Europe, they've had this free go of being able to grow their welfare programs on the back of us coming in and covering their back with our military."