The Islamic State claimed responsibility for the attack outside a Muhammad cartoon contest in Garland, Texas — its first on U.S. soil — and warned of future attacks.
Two gunmen opened fire outside the event and wounded a security guard before being shot by police officers Sunday. The suspected assailants were Elton Simpson, 31, and Nadir Soofi, 34, who lived in Phoenix, Arizona, according to Agence France Presse.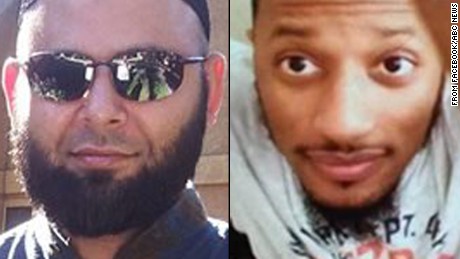 The Islamic State made the announcement on its official radio station Tuesday, reports CNN:
"We say to the defenders of the cross, the U.S., that future attacks are going to be harsher and worse. The Islamic State soldiers will inflict harm on you with the grace of God. The future is just around the corner."
AFP had more of the jihadi group's statement:
"Two of the soldiers of the caliphate executed an attack on an art exhibit in Garland, Texas, and this exhibit was portraying negative pictures of the Prophet Mohammad … We tell America that what is coming will be even bigger and more bitter, and that you will see the soldiers of ISIS do terrible things."
Simpson had previously lied to the FBI about plans to travel to Somalia, plans the feds alleged were to include conducting "violent jihad," The New York Times reports. The charges didn't stick and Simpson came off with just three years probation.
Simpson tweeted a pledge before he and Soofi's attack, "The bro with me and myself have given bay'ah to Amirul Mu'mineen. May Allah accept us as mujahideen. Make dua #texasattack."
"Given bay'ah" means pledged allegiance and "Amirul Mu'mineen" means "commander of the faithful," a old Muslim title most recently taken up by Abu Bakr al-Baghdadi, the leader of ISIS.
Several known jihadi accounts tweeted their support for the two men, some even drawing parallels to the attack on Charlie Hebdo in France, which resulted in the deaths of 12 cartoonists. Like the France attacks, these jihadis were armed with semi-automatic rifles, body armor, and extra ammunition stored in their cars.
Unlike France, a Texas police office drew his service pistol and gunned down the assailants within seconds of the attack. The only casualty was a school security guard, who sustained slight bullet wounds to his leg in the initial attack.
Later, White House Press Secretary Josh Earnest would tell reporters aboard Air Force One,  ""There is no act of expression, even if it's offensive, that justifies an act of violence."
The event was organized by the American Freedom Defense Initiative and drew about 200 attendees, including Dutch politician, Geert Wilders. The prize for the winning piece was $10,000 and went to a depiction of an angry Muhammed, holding a sword and yelling, "You can't draw me!" (RELATED: Shooting In Texas Outside Of Muslim Cartoon Event Attended by Geert Wilders)
Meanwhile:
My favorite drawings at the Muhammad cartoon festival in Texas were the two chalk outlines out front.

— Evan Sayet (@EvanSayet) May 4, 2015
Content created by The Daily Caller News Foundation is available without charge to any eligible news publisher that can provide a large audience. For licensing opportunities of our original content, please contact licensing@dailycallernewsfoundation.org.